Frequently Asked Questions
Frequently Asked Questions
Logins
What set-up credentials will be required to use Partner Hub?
Please coordinate with your Latitude contact to accredit your business. Once done, you simply need to submit to us a list of stores as well as a list of store user information including First Name, Last Name, Email address and the store/s they need to have access to. Once we have completed our onboarding, store users will receive an activation email to activate and setup their account to be able to start using the Partner Hub.


Where do I login?
There are various locations of the Merchant Partner Hub to make it easier for users. Kindly refer to the Partner Hub login guide in the Resource site to find where you can easily find the Partner Hub login link.


How do I login?
Please refer to appropriate sections of our Partner Hub How to login Guide under Additional Login Guide. We have instructions for first time logins and subsequent logins.


What is my Username?
Username, used to login to Partner Hub, is typically your email address. You may also find your Username in the activation email, just right below the activation button. It will be shown as "Your username is XXXXX@XXXX.com."


Can users share the same login credentials?
It is important that users do not share their login credentials. If someone in your team needs to have access to a particular store or stores, kindly ask them to raise a request. Usernames are used in the Order History tab of the transaction to identify who created the transaction or who performed order management functions on the transaction.

Will I get locked out due to incorrect username/password?
Yes, users who entered incorrect combination of username/password will be locked out after 5 attempts. They will be prompted with "Too many attempts. Try again later". They just need to wait for 3 minutes before they can try again. If you encounter any issues when logging in, please reach out to Integration Support integrationsupport@latitudefinancial.com.


Why am I asked to setup my mobile?
Partner Hub users will authenticate their user id (email address) using an OTP sent to the user's mobile every time they login as an added security and to avoid having to remember passwords.


I have changed my mobile number and I login using OTP. How can i update the mobile number that receives the OTP upon when logging to Partner Hub?
You can reach out to Integration Support integrationsupport@latitudefinancial.com to assist you with updating your registered mobile number. Once it is reset by Integration Support, please follow steps in Login after mobile phone reset guide


Can I access Partner Hub from my smartphone or tablet?
Yes, Partner Hub is accessible from smartphone or any tablet devices.


Why can't I login?


What do I have to do if i see a "PKCE verification failed" error upon login?
Please click on "Back to sign in" link (in red box) and you will be automatically logged in.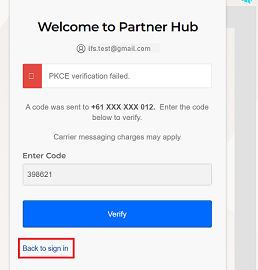 Using Partner Hub
How do I make an Interest Free transaction in Partner Hub?
Our Partner Hub Experience booklet is intended to guide you on how to make create transactions using Partner Hub, how to make payments manually and how to perform order management functions.


How do I search for my Partner Hub transactions?
You can use the search function within the Dashboard. Simply key in the date, amount or keywords on the search field and click search.


Can I create an interest free transaction and save it?
Yes you can. Simply create the interest free transaction and click submit. You can go back to dashboard by clicking on the Order Management logo on top left, if you don't want to send the quote to the customer and your order will be saved as Quote. You can go back to this order anytime to proceed with the payment.


How long is the payment link to the customer's mobile valid for?
The payment link to the customer mobile will be valid for 7 days.


My customer does not have their mobile with them or My customer said they have not received the sms; What can I do to proceed with the payment?
Simply click on the option to do Manual Payment. You will have to enter the customer card details on your device to complete the payment.


Why is my customer not receiving the OTP codes as sms on their mobile phone when doing payment?


Please ask customer to check their spam folders

Please check with the customer that they have not recently changed their mobile number with Latitude in the last 24 hours (changes to mobile number takes effect after 24 hours only)

Please ask the customer to confirm with Latitude the status of their card including validation of their mobile number in the Latitude system.

Order Management
What are the order management capabilities available within Partner Hub?
Partner Hub now allows full and partial order management functions. Please refer to Order Management guide to know more about how to perform these order management functions within Partner Hub.


What is AutoCapture use for?
AutoCapture is a feature we can enable for those on deferred settlement setup, who also have transactions where customer take home the goods at the time of the order creation. Please note that it is available upon request for deferred settlement merchants only.


When should AutoCapture be requested to be ticked by default?
Autocapture can be ticked by default when majority of the orders can be fully captured at the time of the order creation. This way, Partner Hub users would no longer have to tick the tickbox for majority of the orders. They will just have to make sure to untick it for orders that do not require auto-capture (which should have less occurrence than the transactions that will be auto-captured).


What is a Capture?
Capture (also known as settlements) - When a Merchant is configured for deferred settlement, an authorisation must be followed with a capture request for the funds to be settled.


What is the difference of a Void and Refund?
Void (also known as merchant reversal) is the process to cancel an order before it is captured/settled. Amount voided is credited back instantly to the customer account as soon as void request is successfully completed. Refund is the process when a captured/settled goods is returned. Amount refunded takes about 3-5 days before it is credited back to the customer account.

Support
Where can I go if I have more questions or need help?
Reach out to our support team as shown in our Contacts page in our Resource site.